The Northern branch of Färgfabriken opened the 3rd of April with the exhibition Teleport Färgfabriken. The 2nd and 3rd April the conference The New World Bank took place.
The artists participating in the exhibition are:
Adelle Lutz, Albin Karlsson, Angelo Plessas, Anita Gordh, Andreas Angelidakis, Annika Larsson, Armin Linke, Bajki, Brody Condon, Carsten Höller, Carsten Nicolai, CCA Kitakyushu, Chris Anthony, CM Lundberg, Cory Archangel,David Lynch, Elaine Tin Nyo, Ernst Billgren, Erika Blumenfeld, Finnbogi Pétursson, François Roche, Farshid Moussavi, Fredrik Wretman, FRONT, Young Hea Chang & Heavy Industries, Henrik Samuelsson, Helene Billgren, John Duncan, Joachim Koester, Jana Winderen, Jenny Wiklund, Jesper Waldersten, Jörgen Svensson, Jurij Leiderman, Jan Håfström, Erik Håfström, Jan Svenungsson, J.G. Thirlwell, Jacob Kirkegaard, Jean Pierre Khazem, Katarina Norling, Karl Holmqvist, Kerry Skarbakka, Lena Bergendahl, Leonid Tischkov, Linda Jansson, Liz Cohen, Leif Elggren, Mats Theselius, Manu Luksch, Marie Sester, Maurizio Cattelan, Max Book, Miriam Bäckström, Militärligan, Miltos Manetas, Mathias Johansson, Mai Ueda, Michael Esposito, Nanna Hellberg, Nico Dockx, Nils Furto, Nathalie Djurberg, Ola Pehrson, Pablo Vargas Lugo, Peter Geschwind, Payam Sharifi, Rirkrit Tiravanija, Dave Falconer/Russell Haswell, Selmer Nilsen, Mike & Doug Starn, Städelschule, Emanuel Swedenborg, Tiina Aste, Tobias Rehberger, Tobias Bernstrup, Ulf Linde / Marcel Duchamp, Veronika Valk, Jorge Garcia-Robles / William S Burroughs.
Jana did a sound piece based on hydrophone recordings of the local Lake, and its Seamonster Storsjöudjuret for the exhibition which will last until August 2008.
The sound work Submerge, by Jana Winderen. Leif Elgren and Michael Esposito installing their EVP works.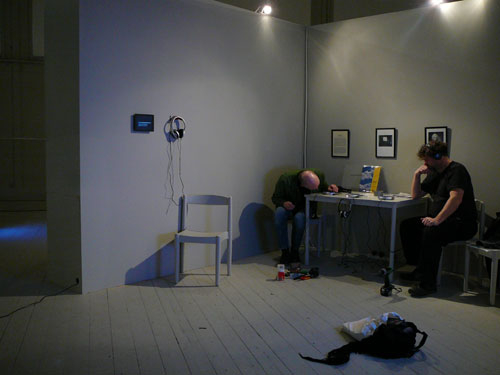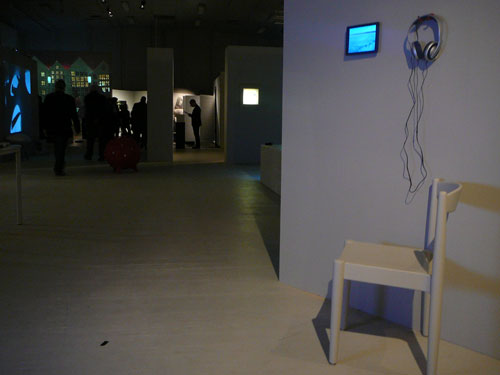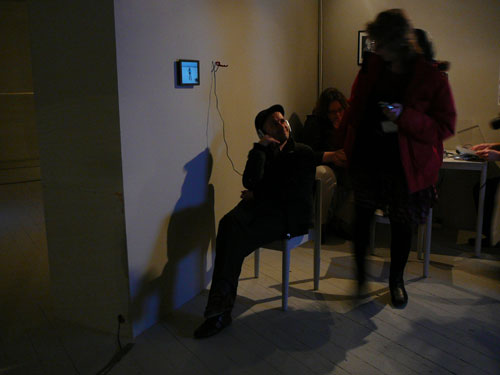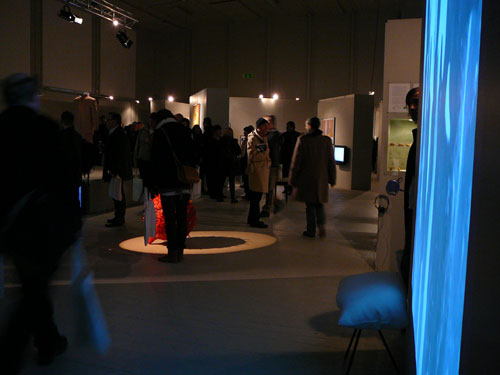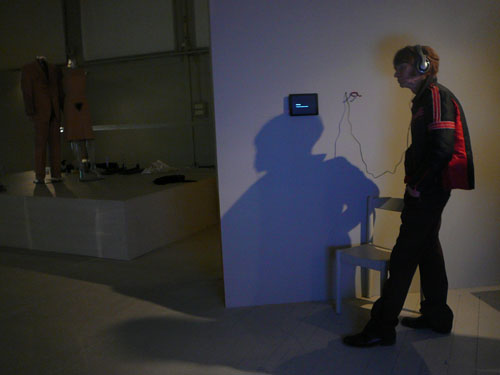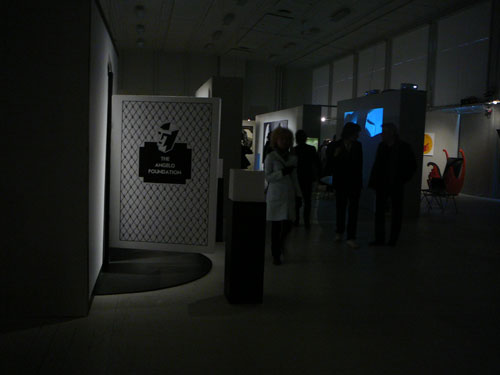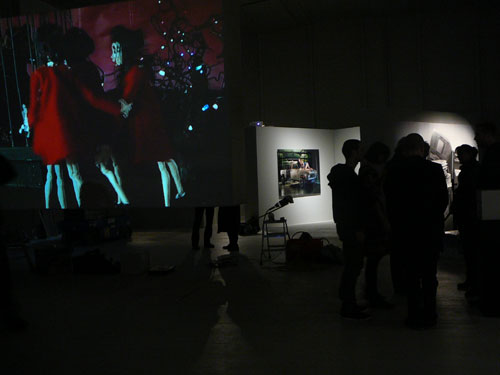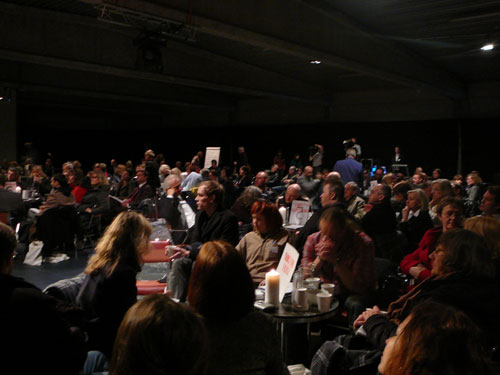 From the conference The New World Bank
From the recording to make the piece Submerge
30st March: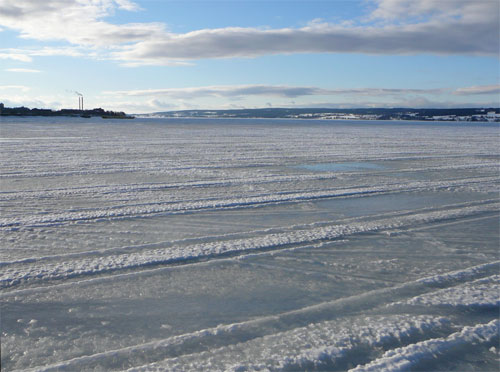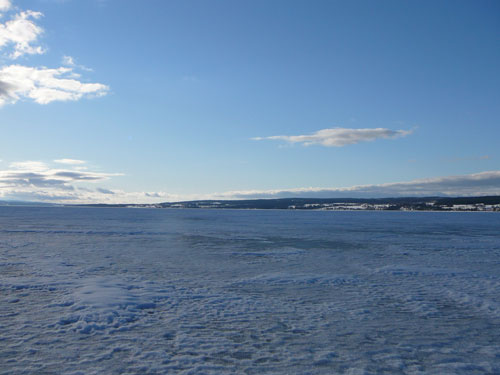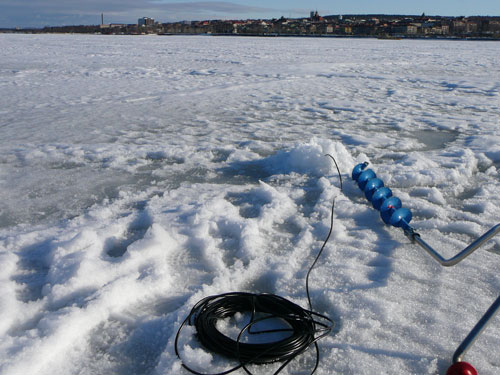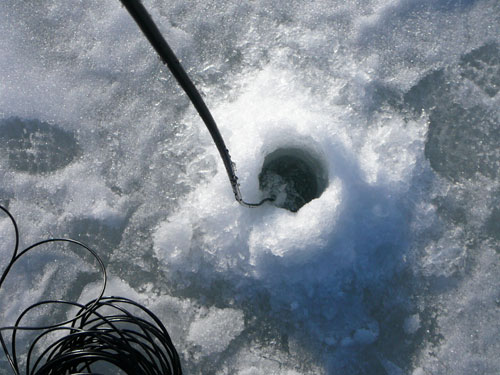 29th March:
Did recordings in Storsjöen by drilling several holes in the 40cm thick ice at various location on the lake.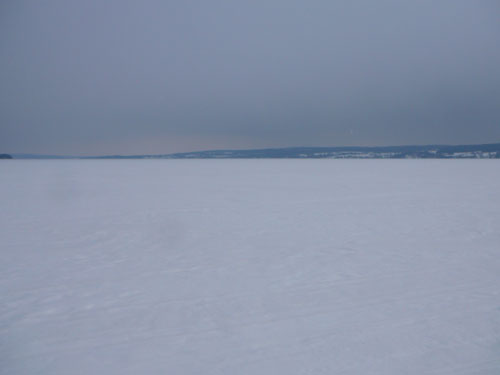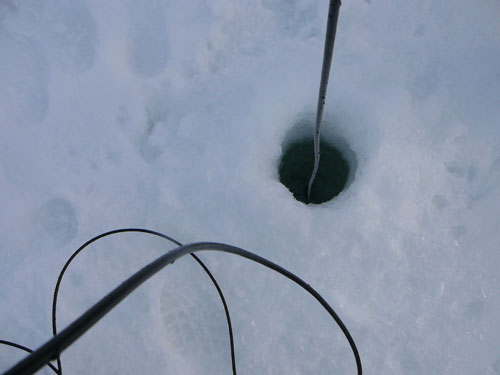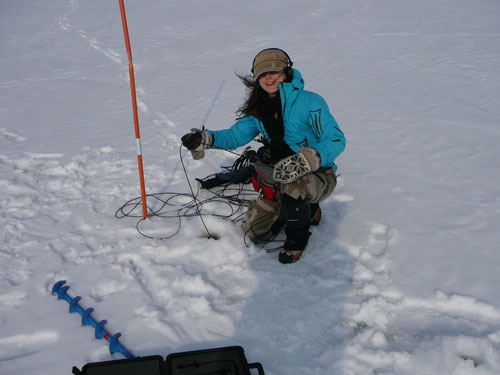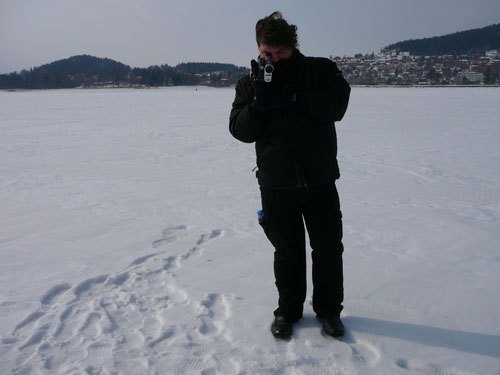 Photos by Michael Esposito and Jana Winderen